48 Hours on The Bellarine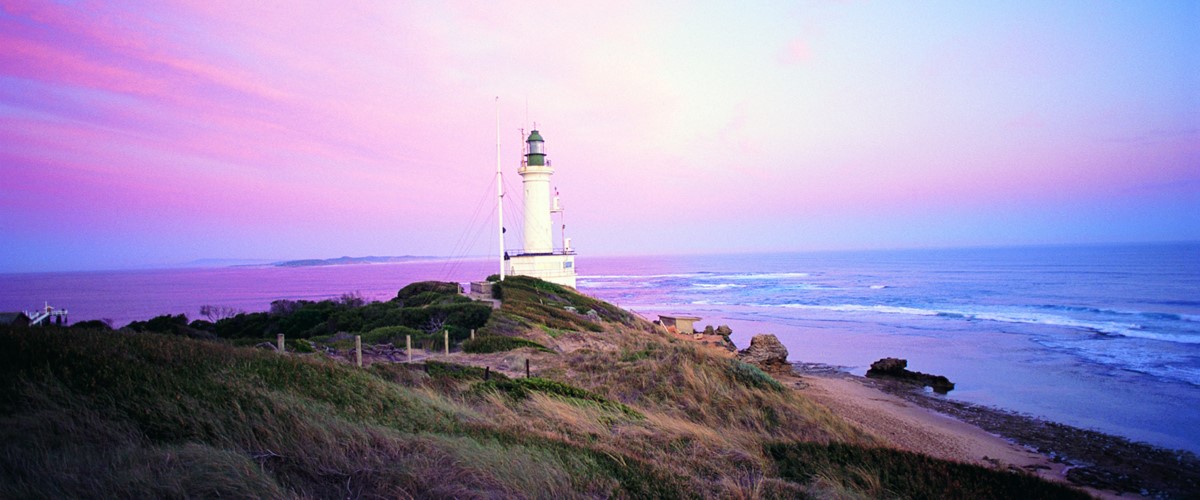 It all starts with a little mid-week musing. Before I know it, I've conjured up a weekend getaway to recharge, get down to the sea and delve into The Bellarine's hidden treasures and legendary food and wine experiences. My mind trip looks a little like this …
SATURDAY
5PM FRI Check-in at Point Lonsdale Guesthouse and mentally adjust our clocks to downtime. We're a pebble's throw from the beach and lighthouse, but that can wait. We've got two days. Tonight is all about dinner.
7.30PM FRI We're keen to check out the brand new Hotel Q – in what was the Royal Hotel, a familiar old landmark on the drive into Queenscliff. I see briny-fresh seafood and local wine. Maybe just two – early start tomorrow.
6.30AM SAT Up with the sparrows! A stroll to the lighthouse to see it like we've never seen it before – at dawn. Amble the pier, mingle with anglers, glimpse a big ship making its way through the treacherous waters of The Rip. Ramble around to the ocean beach, bury our toes in the sand and ogle early morning surfers doing their thing.
8.30AM SAT Across to Barwon Heads for breakfast at Annie's Provedore & Produce Store. The Eggs and Avocado dish is the stuff off dreams.
11AM SAT Yikes! Time to tick one off the bucket list: a one-hour SUP lesson with Paddle Life Barwon Heads. The pipe dream: gliding elegantly across the river. Reality: lots of falling in and belly laughs.
1.30PM SAT Tuckered out and starving, we head to Little Red Fox Eatery at Banks Road Vineyard (Marcus Hill). Chickpea and Pumpkin Curry for me, Pork Belly for he. A glass or two of Pinot Noir and a lazy afternoon soaking up the views before loading up the boot with cellar door fare.
5PM SAT Back at the guesthouse, loll by the pool, watch the shadows grow long. Snooze (just a little).
7PM SAT Feeling chilled out and fancy-free, we opt for fish and chips (yes, from the paper) on the foreshore. Bare feet and breezy. Just how we like it.
SUNDAY
8.00AM SUN Breakfast at our digs – good, old-fashioned scrambled eggs, toast, coffee and chatter. We grab the papers (and a takeaway latte) and head to the beach to sprawl on the sand and trawl through the news that's fit to print.
10.30AM SUN Saunter the boardwalk at Queenscliff Harbour. Spiral up the 42-metre observation tower for amazing views. Poke around the Queenscliffe Maritime Museum, making time to take in the volunteers' fascinating tales of couta boats and sea pilots.
1.30PM SUN First stop on the scenic route homebound: Portarlington Bakehouse for coffee and almond croissants.
2.30PM SUN An afternoon devoted to sampling and stocking up on glorious fresh produce to carry home. Pop into Little Mussel Café for a kilo of fresh Portarlington mussels (and maybe some house-made smoked mussels). At Manzanillo Grove, chat with Len and Renate about their award-winning olive grove. Flip-flop between garlic-infused olive oil and balsamic reduction. End up getting both (plus two vak paks of olives for good measure). Meet the makers (and the goats) at Drysdale Goat Cheese (first Sunday of the month). Add Saltbush Shev and Bellarine Blue to the weekend's loot. Time for one last stop on the way home to shoehorn half a case of the new Yes Said the Seal limited release wines into the already brimming boot.
And then the bubble bursts, the daydream dissolves and I find myself back at my desk, wide awake … clutching a half-empty bottle of Flying Brick Draught Cider. How did that happen?