Accommodation
Queenscliff has a range of fantastic accommodation options in Queenscliff, Point Lonsdale and the surrounding area. 
Your weekend stay could be in a cosy B&B, a beachside holiday house, holiday resort park or camping for those on a budget. There's plenty of places to stay in Queenscliffe & Point Lonsdale to suit all tastes & budgets.
ACCOMMODATION PACKAGES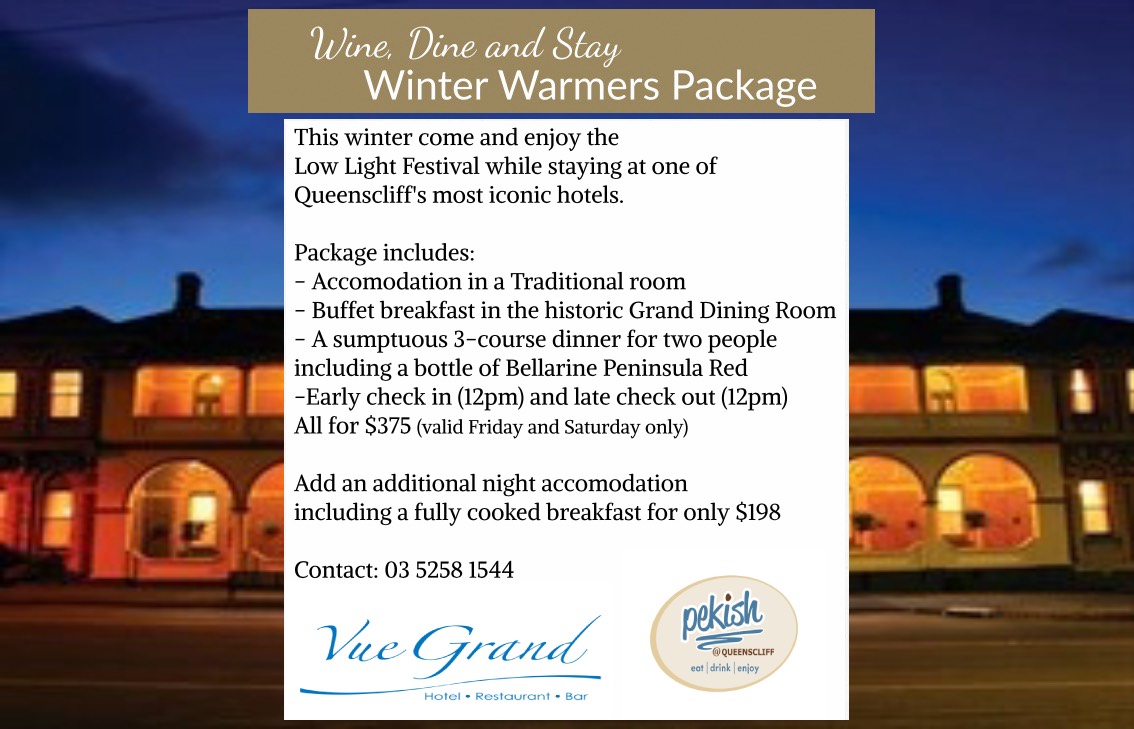 QUICK LINKS
Hotels/Motels/Inns/Camps
---
Camping/Cabins
(For camping with vehicles and cabin stays - Queenscliff & Point Lonsdale locations)
(Cabins, camping and lots more)
---
Holiday Rental Houses
Lots of holiday rental houses available in Point Lonsdale & Queenscliff
Kerleys Coastal Real Estate (03) 5258 4567
Queenscliff & Coastal Real Estate (03) 5291 8010 
---
Swell Shelter Glamping @ Queenscliffe Tourist Park
Glamping is the perfect way to experience winter, providing a stylish, luxurious and snuggly retreat from the cold, whilst still getting to enjoy the outdoors. It is a unique way to camp, perfect for anyone looking for alternative luxury accommodation or a special outdoors experience.
Swell Shelter is pleased to provide its guests with a luxury 4 metre canvas bell tent glamping package. Our Bell tents are cosy, waterproof and can withstand high winds, making them a fantastic way to get out and enjoy our wonderful winter.
The tents come complete with a Queen mattress, bedding and linen, Pony Rider interiors, such as fine merino blankets as well as designer throws and cushions, Winter blankets, a heater, Homecamp lanterns, fairy lights, Tribe floor rugs, bedside tables, mirrors, towels and various other homely touches.
Min 2 night stay for 2 people, cost = $320, additional nights $80 each.
CLICK HERE FOR MORE INFORMATION & TO BOOK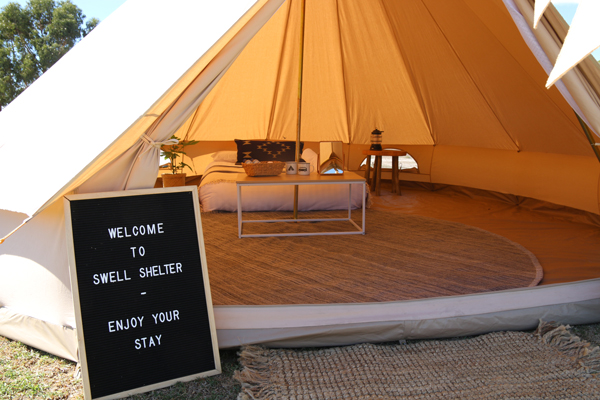 ---
Air BnB
Why not try Air BnB for lots of great options...
Queenscliff - CLICK HERE
Point Lonsdale - CLICK HERE
---
All other  accommodation enquiries can be made through the Queenscliff Visitor Information Centre:
Open 9am to 5pm every day. 

55 Hesse Street, Queenscliff, 3225.
Ph: +61 3 5258 4843 (from Overseas)
Ph: (03) 5258 4843 (within Australia)
Toll Free: 1300 884 843
Email: This email address is being protected from spambots. You need JavaScript enabled to view it.